Category Archives:
Equine Exercise
I decided to get on Tilly and see how she was under saddle.  
The saddle fit nicely and I chose a bit-less bridle. Tilly was calm throughout tacking her up and getting on her back. One hiccup….she would not respond to my leg or move forward at all. My friend decided to lead her and Tilly walked easily forward. I decided to end with that for the day. A few days later I got on her back again. Same thing happened- she would just stand there. Small spurs, leg, a crop (which I hit gently against my leg)…none of them worked. I was frustrated despite it not being my sweet girl's fault so I ended our ride. I knew nothing could be accomplished with me being frustrated. I decided to do some research on work horses and posted on some Facebook forums about my situation. I received some awesome advice!
The advice I received is below.
"If she was used in harness you will probably have to use driving commands as you teach her.Walk on, or get up to go forward. Gee to turn right, Ha to turn left. May have to tap her hind quarter with the crop."
"Get someone to lead her after you give her forward cues"
"She may never have been ridden, on driven. I would find a good trainer who works with starting horses, even though she's not young. It will take months but if she's started correctly she'll be lovely and at her age will help to keep her sound once she begins to WTC, as driving horses only walk."
"

Probably a driving horse. Try "Step up" or "walk on" look up the Amish terms. Gee, Haw, Gee around, Haw around, etc…

See if that helps. If she was a driving or plow horse it also helps to hold your hands wider at first."
"Patients little at a time he or she needs to know you love them first ground work is good he may be sore see if he's stiff arthritis meds or joint supplements he may only know driving commands such a gee or has or come and get good luck".
"Sounds like she hasn't been ridden but is a good girl! She may need a bit in her mouth to understand what you are asking since she was driven. If she understands words, perhaps say them for what you want. Looks like others know those words better than me! I know my horse that logged has a nice "whoa". Just can't say "good boy" – sure, sounds like whoa! I saddled and sat on a driving horse, Belgian (no history known) with a leader for walk only. I felt that he was sore – even though there was no outward sign – perhaps the way he held himself. Not saying this is the case for you – just a thought. I like the other advice here as well!"
"I rescued my 18 year old boy in November
Same history as your mare. As workhorses, they were not trained to ride, and they don't know the commands or how to respond to leg pressure or the bit (other than pulling). So you need to start with groundwork and then at the very beginning, because basically they are green. I do not use a crop on my boy. Never will."
"I would never give her spur or crop. You don't want to punish her for not understanding your cues."
"My Belgian was not broke either but she did walk out just fine unlike your mare. Get a driving bit…that's what she'll be familiar with. Check all voice commands to see if she knows any of them. If not I'd teach her voice commands lunging her and then get back on once she's responding well."
"Because they came from Amish, a friend told me to learn the commands in that specific language (version of German). Worth a try. BUT, I will say, I have tried to avoid anything that would remind my boy of his previous owner."
"Haw & Gee. These are commands used to ask what direction to turn by the horse by voice command. It works well when they're in harness working. Gee means go right, haw means go left. The Amish use "step up" to take a step or two forward and " walk on" to walk. "Whoa" to stop. Try these commands while mounted. Slowly add in the ques you want to use in addition to the verbal ques your mare already knows."
"She might have never been used alone, which could mean she's looking for a cue from someone else, (it would explain why someone needs to lead her) amish usually use a oring bit, she might do better with blinders at first, and she's probably voice activated. She won't have any clue about leg cues. Start ground driving her, she still might be a little confused being single but she figure it out. good luck."
" when you are on her wanting her to go sometimes turning her to one side or the other where she has to step to move is a good way to start her momentum."
In the evening I take Ottille for a walk and set her free. Her carefree happiness is palpable and her beauty takes my breathe away every time. I still can not fathom how anyone would work this sweet girl until she reached 17 only to send her to a slaughter auction. Welcome to the rest of your life, sweet girl! Like I promised the first day we met, you can trust me to take care of you the rest of your days. ❤️
Horses Require Extra Attention when Temperatures Plummet
With freezing temperatures comes the need for extra care and attention for horses and other equids.
The next few days will bring freezing weather to many parts of the country, and with that comes the need for extra care and attention for horses, donkeys, ponies, mules, and any other outdoor animals.As the temperatures decrease, a horse's feed requirements increase. Allowing horses free choice to good quality forage (hay) is the surest way to ensure that they consume enough energy, and the
process of digesting forage will actually produce heat
. Horses will typically consume 2 to 2.5% of their body weight in forage each day; that would be 25 pounds per day for a 1,000 pound horse. Winter pasture alone will not provide enough forage to sustain a horse and, therefore, must be supplemented with hay and/or grain.
The growing season some parts of the nation had last year produced overly stemmy or fibrous hay with a lower digestibility. As a result, making certain that horses are supplemented with grain when fed lower quality hay will help them maintain body weight and condition, a key factor in withstanding cold temperatures.
Constant access to clean, fresh water at 35 to 50°F is an absolute necessity to keeping horses healthy. This can be achieved via heated tanks or buckets, or by filling a tank, letting it freeze, cutting an access hole in the frozen surface, and then always filling the tank to below the level of the hole from that point on. This provides a self-insulating function and will typically keep the water below from freezing. Regardless of the method you choose, it's important to check tanks frequently to ensure your horse's water remains free of ice.
Additional ways to keep horses comfortable in cold weather include making sure they have access to shelter. A well-bedded, three-sided shed facing south or east will typically provide adequate protection from wind and snow, as can appropriate bluffs or treed areas.
When the temperatures get colder, mature horses will not typically move around much in an effort to conserve energy. Making an attempt to keep hay, shelter, and water fairly close together can limit the energy expenditure required, thus conserving body condition.
And, finally, keeping horses at a body condition score of 5 or 6 (on a 9-point scale) will help prevent surprises when horses shed their winter hair in the spring, and improve conception rates for those choosing to breed.
I have been desperately trying to get my miniature donkey, Lucky, to drop some lbs.  The thing with Lucky- he literally gained weight overnight.  One day he was a skinny mini and the next he had a potbelly.  I was really concerned that the weight suddenly appeared and had the vet run a heptic panel to ensure he wasn't experiencing some sort of liver dysfunction.  Sort of like how humans can develop Ascites when they have liver related disease.  Anyways, his blood work came back and all was okay….he was just fat!  
Unlike horses, donkeys develop "fat deposits" around their neck, abdomen, and butt and even once the weight has been lost the deposits stay for life!  
---
The Dangers of Obesity in Donkeys
---
According to the Scarsdale Vets;
"Obesity increases the risk of developing hyperlipaemia and laminitis, both of which can be fatal. Prevention of obesity is better than cure, because rapid loss of condition in overweight donkeys can trigger hyperlipaemia.
Hyperlipaemia is a condition in which triglycerides (fats) are released into the circulation which can result in organ failure and death unless treated rapidly. The early signs of dullness and reduced appetite can be difficult to detect. Hyperlipaemia can be triggered by anything that causes a reduction in food intake e.g. stress, transport, dental disease.
Laminitis is a condition in which there is inflammation in the laminae of the foot that connect the pedal bone to the hoof wall. This can progress to rotation or sinking of the pedal bone within the foot. The cause is not fully understood and many factors are involved but obese animals are more prone to develop the disease."
Equine Metabolic Syndrome: "Overweight donkeys often develop a fat, crest neck and fat pads around their tail base. When this occurs the donkey can develop a metabolic disease known as 'Equine Metabolic Syndrome'. This causes insulin resistance and increased levels of blood glucose (blood sugar) in the blood stream. In equids this can lead to recurrent episodes of laminitis or founder. This disease involves inflammation of the white lining or laminar junctions of the feet, extreme foot pain and difficulty walking. In severe cases this can also cause changes in the bone of the foot and hoof wall" (Yarra Ranges Animal Clinic)
---
How To Help Your Donkey Lose Weight Safely
---
Use a muzzle

Limit grazing

Ask your vet to do blood work to ensure your donkey is healthy

Have the dentist come out and examine the donkey's teeth

Engage in an exercise routine
---
Donkey Related Resources and Information
---
DonkeyBCS3posterDonkey Body Scoring by Dr_ Judy Marteniuk
A Guide to Weight Management and Body Score
Over the past 30 years the Grayson-Jockey Club Research Foundation has funneled nearly $20 million into studies aimed at improving horse health. This year the effort continues with funding for a dozen new projects in fields ranging from laminitis to lameness diagnosis. A sampling:
Detecting lameness at the gallop: Kevin Keegan, DVM, of the University of Missouri, is developing an objective method (using a calibrated instrument) for detecting obscure, subtle lameness in horses at the gallop. The goal is a low-cost method that can be used in the field to increase understanding of lameness in racehorses.
Deworming and vaccines: While it's not unusual to deworm and vaccinate horses on the same day, recent findings have raised concerns about possible interactions. Martin Nielsen, DVM, of the University of Kentucky and Gluck Equine Research Center, is investigating whether deworming causes an inflammatory reaction that affects vaccination.
Imaging injured tendons: Horses recovering from tendon injuries are often put back to work too soon and suffer re-injury. Sabrina Brounts, DVM, of the University of Wisconsin–Madison, is exploring a new method developed at the university to monitor healing in the superficial digital flexor tendon. The technique, called acoustoelastography, relates ultrasound wave patterns to tissue stiffness: Healthy tendon tissue is stiffer than damaged tissue.
Detecting laminitis early: Hannah Galantino-Homer, VMD, of the University of Pennsylvania, is investigating possible serum biomarkers (molecular changes in blood) that appear in the earliest stages of laminitis. The goal is to develop tests for these disease markers so that treatment can start when laminitis is just developing, before it's fullblown and damages the foot.
Other new studies include evaluations of a rapid test for salmonella; investigation of how neurologic and non-neurologic equine herpesvirus 1 (EHV-1) spreads cell-to-cell in the body; an effort to map the distribution of stem cells after direct injection into veins; and more.
This article originally appeared in the June 2013 issue of Practical Horseman.
I walked outside to sit on my porch and enjoy the evening, when I realized that the time is fast approaching where I can not longer do so without bundling up first.  I decided it was time to get ready for the winter months ahead especially for my equine friends.
I have included articles, lists, resources, etc to help you make sure you and your horse are ready for the dropping temperatures! 
---
---
Preparing Your Horse for Winter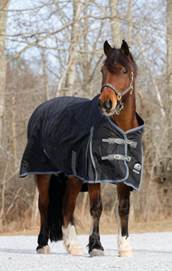 By: Dr. Lydia Gray
Hot chocolate, mittens and roaring fires keep us warm on cold winter nights. But what about horses? What can you do to help them through the bitter cold, driving wind and icy snow? Below are tips to help you and your horse not only survive but thrive during yet another frosty season.
Nutrition
Your number one responsibility to your horse during winter is to make sure he receives enough quality feedstuffs to maintain his weight and enough drinkable water to maintain his hydration. Forage, or hay, should make up the largest portion of his diet, 1 – 2 % of his body weight per day. Because horses burn calories to stay warm, fortified grain can be added to the diet to keep him at a body condition score of 5 on a scale of 1 (emaciated) to 9 (obese). If your horse is an easy keeper, will not be worked hard, or should not have grain for medical reasons, then a ration balancer or complete multi-vitamin/mineral supplement is a better choice than grain. Increasing the amount of hay fed is the best way to keep weight on horses during the winter, as the fermentation process generates internal heat.
Research performed at the University of Pennsylvania School of Veterinary Medicine showed that if during cold weather horses have only warm water available, they will drink a greater volume per day than if they have only icy cold water available. But if they have a choice between warm and icy water simultaneously, they drink almost exclusively from the icy and drink less volume than if they have only warm water available. The take home message is this: you can increase your horse's water consumption by only providing warm water. This can be accomplished either by using any number of bucket or tank heaters or by adding hot water twice daily with feeding. Another method to encourage your horse to drink more in winter (or any time of the year) is to topdress his feed with electrolytes.
Exercise
It may be tempting to give your horse some "down-time" during winter, but studies have found that muscular strength, cardiovascular fitness and overall flexibility significantly decrease even if daily turnout is provided. And as horses grow older, it takes longer and becomes more difficult each spring to return them to their previous level of work. Unfortunately, exercising your horse when it's cold and slippery or frozen can be challenging.
First, work with your farrier to determine if your horse has the best traction with no shoes, regular shoes, shoes with borium added, shoes with "snowball" pads, or some other arrangement. Do your best to lunge, ride or drive in outside areas that are not slippery. Indoor arenas can become quite dusty in winter so ask if a binding agent can be added to hold water and try to water (and drag) as frequently as the temperature will permit. Warm up and cool down with care. A good rule of thumb is to spend twice as much time at these aspects of the workout than you do when the weather is warm. And make sure your horse is cool and dry before turning him back outside or blanketing.
Blanketing
A frequently asked question is: does my horse need a blanket? In general, horses with an adequate hair coat, in good flesh and with access to shelter probably do not need blanketed. However, horses that have been clipped, recently transported to a cold climate, or are thin or sick may need the additional warmth and protection of outerwear.
Horses begin to grow their longer, thicker winter coats in July, shedding the shorter, thinner summer coats in October. The summer coat begins growing in January with March being prime shedding season. This cycle is based on day length—the winter coat is stimulated by decreasing daylight, the summer coat is stimulated by increasing daylight. Owners can inhibit a horse's coat primarily through providing artificial daylight in the fall but also by clothing their horse as the temperature begins to fall. If the horse's exercise routine in the winter causes him to sweat and the long hair hampers the drying and cooling down process, body clipping may be necessary. Blanketing is then a must.
Health
There are a number of health conditions that seem to be made worse by the winter environment. The risk of impaction colic may be decreased by stimulating your horse to drink more water either by providing warm water as the only source or feeding electrolytes. More time spent inside barns and stalls can exacerbate respiratory conditions like "heaves" (now called recurrent airway obstruction), GI conditions like ulcers, and musculoskeletal conditions like degenerative joint disease. Control these problems with appropriate management—such as increasing ventilation in the barn and increasing turnout time—and veterinary intervention in the form of medications and supplements.
Freeze/thaw cycles and muddy or wet conditions can lead to thrush in the hooves and "scratches," or, pastern dermatitis, on the legs. Your best protection against these diseases is keeping the horse in as clean and dry surroundings as possible, picking his feet frequently, and keeping the lower limbs trimmed of hair. Another common winter skin condition is "rain rot," caused by the organism Dermatophilus congolensis. Regular grooming and daily observation can usually prevent this problem, but consult your veterinarian if your horse's back and rump develop painful, crusty lumps that turn into scabs.
---
---
Winter Resources
---
Preparing your horse and barn for winter
Winter Nutrition Tips for Horses
Penn State: Winter Care for Your Horses
Cold Weather Barn Management Check List
we break the rules, explore, have hour long grooming sessions, eat hay wherever we want, and snuggle in the stall together!
This slideshow requires JavaScript.
My old guy has always had issues with his cervical spine/neck. Throughout the years he has developed arthritis which has caused symptoms which mirror EPM such as; ataxia, difficulty bending, hind end weakness, difficulty going up hills, lethargy, difficulty balancing when foot is lifted, muscle atrophy, sore back…you get the picture.
When his symptoms first came on I had the vet test for EPM. The test was positive. I did my research and found out that about 50% of horses will test positive for EPM but only 1% show actual impairment from the virus. I went ahead and completed two rounds of EPM medication therapy and still his symptoms continued. So, I sought out another vet who practiced eastern and western medicine.
After some chiropractic adjustments and acupuncture she felt that his issues were actually due to the cervical spine and not EPM. The vet also showed me how, when looking at Chance straight on, one of his eyes was lower then the other- a classic sign of cervical and jaw issues. We continued with the chiropractic and acupuncture therapy and have continued for over a year and the change has been remarkable. Along with these therapies, we upped his feed, added supplements, began stretches and different exercises, and had him walking and running up and down hills whenever he was outside. The dentist has also been of great help by floating Chance's teeth every few months instead of once a year. This helps with the alignment of his teeth because he tends to ware one side of his teeth down more then the other; ultimately straining his jaw and neck.
He has rebuilt the muscle on his hind end, put on around 100 lbs, and is able to do stretches while someone is holding his foot up. He runs when he is outside and is no longer on pain medications (except on the rare occasion).
Here is some useful information on a horse's back and cervical spine.
Diagnosing A Horse's Neck Problems
Main Causes of Ataxia in Horses
Arthritis of the Spine in Horses