Category Archives:
Winter
By Kelly Munro
Frozen stock tanks and water troughs in our paddocks and pastures not only pose a dehydration risk to horses, they create a lot of extra work for us. In order to keep fresh water available to our horses at all times, we are constantly breaking and removing ice, hauling hot water from the barn, or installing costly electric systems.
Wouldn't it be nice if there was an easy and inexpensive, low-tech way to eliminate or at least reduce this burden? Well, good news! Here are some simple #barnlifehack tricks that do a surprisingly good job of keeping the water ready to drink, even in the single digits, without constant management.
1: The Floating Object
Just as a river rarely freezes compared to a lake, moving water stays liquid longer. How can we use that to our advantage without leaving a hose running all night long? The answer is as simple as placing some large floating objects in our stock tanks.
A basketball, tennis ball, or other non-sinking object bobs and floats around in the water, agitating the surface and making it difficult for an ice skin to form over the top of the tank. Plus there's an added benefit in really cold weather! If an ice skin does manage to form, the floating object creates a weak spot in the ice that your horse can more easily break by pushing down on the ball to create a drinking hole.
Be careful that the object you use isn't imparting a funny flavor to the water or scaring your horse away from drinking deeply. If you don't see horses comfortably approaching the trough, stay with them and use treats and kind words to show them that the new floating objects are safe to drink next to.
2: The Salt Water Bottle
An old cowboy trick is to fill milk jugs, or other sealed plastic containers, with salt water and place a few in the stock tank. Saltwater has a lower freezing point than freshwater and tends to stay liquid even in the coldest weather.
In fact a water to salt mixture of about 3:1 won't freeze until around -5 Fahrenheit. That's the cold! So a saltwater bottle can easily last all night in the single digits without freezing.
But what good does this really do? While this scientific property of saltwater is fascinating, it's not actually particularly useful to us since horses can't drink saltwater, and freshwater freezes at 32 degrees Fahrenheit no matter what.
Does this bottle of unfrozen saltwater make it warmer in the tank water? No! The temperature of the liquid saltwater is just as cold as the freezing freshwater. The idea that the proximity to the saltwater somehow keeps the freshwater from freezing is a myth. However, the floating bottle does agitate the surface which helps prevent and ice skin from forming and horses can push the bottle down with their nose to break a hole in the iced over tank.
Myth busted? Well, sort of… the saltwater bottle does work well to prevent stock tanks from icing over, but not necessarily because of the salt. It works in the same way as any floating object would, by agitating the surface of the water. A partially filled saltwater bottle does float especially nicely in the tank and is more difficult for horses to remove than a lighter bottle.
3: The Insulated Side Walls
Insulating the sides of our water tanks can keep them warmer which delays or prevents freezing. How does this work? Heat is lost from your horses' water to the surrounding atmosphere primarily via the principle of conduction. Heat energy is transferred from the warmer substance to an adjacent cooler one where they are touching. In our case, the air is cooler than the water as temperatures drop outside – at night, for example.
On the side walls of the stock tank, the air first touches the material of the stock tank and heat transfer occurs between those two media. Then the heat transfers between the water and the walls of the tank. Some materials are more conductive than others. For this reason, a plastic stock tank freezes more slowly than a metal one.
To prevent this type of heat loss through the sides of your water vessel, you can insulate it to create an even slower transfer of heat to the surrounding air. There are insulated buckets available to purchase. You can wrap the tank in foam, partially bury it in dirt, manure, or bedding, or use large tires filled with spray foam to surround a round bucket or tank. The tire and foam materials are not very conductive and the black tires warm easily in the sun creating more heat to hold in.
In your efforts to insulate, be careful that there is nothing a horse could get trapped in or easily ingest and that no sharp edges were created. Drink responsibly!
4: The Floating Lid
This is the same principle as putting on a hat to keep from losing heat from the top of your head. You can do this with your horse's water by using a floating piece of foam the size and shape of your vessel to insulate the surface of the water from direct contact with the air, which prevents heat loss much like a pool cover.
When the horse pushes his curious nose on the floating foam, it sinks a bit and water flows over the top for him to drink. Some commercially available foam water covers even have a bowl shape in the top that water pools in for easy drinking. If you are making your own, be sure to use a stronger structural foam that is difficult to damage by biting. You don't want your horse ingesting little bits of styrofoam or other material as he plays with the water.
Alright, technically this is just two low-tech methods for keeping your horse's water available to him in freezing conditions: agitation and insulation. To recap, you can try to prevent the ice from skinning over by agitating the surface with a floating object, or you can insulate your water to prevent conductive heat loss. Within these two principles are many ways to accomplish your goals, so be creative and have fun designing your own #barnlifehack that will keep your horse watered and your chore list short!
Horses Require Extra Attention when Temperatures Plummet
With freezing temperatures comes the need for extra care and attention for horses and other equids.
The next few days will bring freezing weather to many parts of the country, and with that comes the need for extra care and attention for horses, donkeys, ponies, mules, and any other outdoor animals.As the temperatures decrease, a horse's feed requirements increase. Allowing horses free choice to good quality forage (hay) is the surest way to ensure that they consume enough energy, and the
process of digesting forage will actually produce heat
. Horses will typically consume 2 to 2.5% of their body weight in forage each day; that would be 25 pounds per day for a 1,000 pound horse. Winter pasture alone will not provide enough forage to sustain a horse and, therefore, must be supplemented with hay and/or grain.
The growing season some parts of the nation had last year produced overly stemmy or fibrous hay with a lower digestibility. As a result, making certain that horses are supplemented with grain when fed lower quality hay will help them maintain body weight and condition, a key factor in withstanding cold temperatures.
Constant access to clean, fresh water at 35 to 50°F is an absolute necessity to keeping horses healthy. This can be achieved via heated tanks or buckets, or by filling a tank, letting it freeze, cutting an access hole in the frozen surface, and then always filling the tank to below the level of the hole from that point on. This provides a self-insulating function and will typically keep the water below from freezing. Regardless of the method you choose, it's important to check tanks frequently to ensure your horse's water remains free of ice.
Additional ways to keep horses comfortable in cold weather include making sure they have access to shelter. A well-bedded, three-sided shed facing south or east will typically provide adequate protection from wind and snow, as can appropriate bluffs or treed areas.
When the temperatures get colder, mature horses will not typically move around much in an effort to conserve energy. Making an attempt to keep hay, shelter, and water fairly close together can limit the energy expenditure required, thus conserving body condition.
And, finally, keeping horses at a body condition score of 5 or 6 (on a 9-point scale) will help prevent surprises when horses shed their winter hair in the spring, and improve conception rates for those choosing to breed.
Tonight I lost my best friend, Chance. The one who whinnied the moment my car pulled up, would run away and wait for me to catch him only to turn around and run away again. He made me laugh, knew all my secrets and nuzzled me when I was sad. He taught me about unconditional love and having a positive attitude despite circumstances. He nodded when I asked if he loved me and gave kisses to get treats. He's the 17.1 hand horse who would stand behind me and fall asleep as I did my school work and would get upset if any horse got near me but would never hurt a fly. He let children hug him and dogs run into his stall and let me dress him up with flowers. He loved rolling in the snow, laying in the sunshine, and would light up the moment he saw me. I'll miss playing in the barn on cold nights and curling up reading in his stall when he wasn't feeling well. I'm thankful that he waited for me to get there tonight to say goodbye so I could hold his head in my lap and talk to him while he passed. There will never be a sweeter horse with a more gentle and pure soul. Thank you, Bubba, for being with me through it all- high school, college, the break ups, the losses, the good and bad days. You gave one hell of a fight for 30+ years. Lucky and I will miss you- there will never be another you❤️ #myfavoriteredhead #chancewetake #20yearstogether #thebesthorseintheworld #myheart
Recently, I had to move to a new farm. And, if you are anything like me you loathe not only moving but moving your horse. The what-ifs running though my head- what if he won't load? What if he hits his head? What if he freaks out? (Or to be completely transparent, what if I do?). What if he falls? Etc. Personally, when I am faced with a anxiety provoking situation, I need to have a sense of control however small it is. So, I did what I do best and planned and organized. Everything.
Chance had a bad prior experience with being trailered. Plus, with his age (31) and past health issues my anxiety was at an all time high. It was recommended that I plan to meet him at the new farm instead of being there for loading. Made sense. I scheduled the vet to be there in case medications were needed. And they scheduled a therapeutic trailering service with a large trailer that had an forward unloading ramp. The horse communicator was also scheduled as she knew of Chance's past experience and did energy work.
The day arrived. I went to the farm early and wrapped Chance's legs, brought he and Lucky inside, packed up all my stuff, and met with the horse communicator. She did some grounding exercises with Chance and myself. I left when everyone arrived and went to the new farm and unloaded our stuff. About 1 hour later the phone rang and of course, I thought the worse. Chance refused to load even after 2 rounds of medications. Lucky was on the trailer. They requested I come and try. I drove the 30 minutes back to the farm- praying to everyone and anything- that Chance would load. I read some tips on Google (yes, I'm ashamed to admit, while driving). One article suggested doing groundwork to get the horse to pay attention. For example, stop him, make him stand, back up, etc. Once he was listening that is when you try to load. The article went on to say that anger and frustration would not work. Because a horse is in sync with our emotions. And that physically, a horse has stamina that we as humans do not share. However, mentally the horse will give up quicker. Patience. Kindness. Persistence.
I arrived. I followed the advice of the article. I walked him and gave commands. I was cool, collected, firm, and kind. We tried once. He walked part way up the ramp, stopped, and backed up. Again, I did the commands. Tried once more. Same thing. The third time the lady who was there to Trailer him lightly smacked his butt with a crop and suddenly, he was on the trailer! I couldn't believe it. We quickly shut the doors and off we went.
The trip was about 45 minutes. And, thankfully, uneventful. The trailering company was amazing and patient. I'm beyond grateful for everyone's help!
Below is information for trailering issues, how-tos, and professionals that can make the transition 10000% easier and, almost, stress free.
Resources:
1. True North Equine in Marshall, Virginia
2. Trailering service: Always There Horsecare: 703-915-6255 or http://www.alwaystherehorsecare.com
3. Article: Think like a horse
4. Article: The hard to load horse
5. Article: Lets Get Loaded
I walked outside to sit on my porch and enjoy the evening, when I realized that the time is fast approaching where I can not longer do so without bundling up first.  I decided it was time to get ready for the winter months ahead especially for my equine friends.
I have included articles, lists, resources, etc to help you make sure you and your horse are ready for the dropping temperatures! 
---
---
Preparing Your Horse for Winter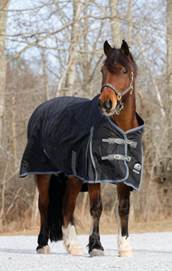 By: Dr. Lydia Gray
Hot chocolate, mittens and roaring fires keep us warm on cold winter nights. But what about horses? What can you do to help them through the bitter cold, driving wind and icy snow? Below are tips to help you and your horse not only survive but thrive during yet another frosty season.
Nutrition
Your number one responsibility to your horse during winter is to make sure he receives enough quality feedstuffs to maintain his weight and enough drinkable water to maintain his hydration. Forage, or hay, should make up the largest portion of his diet, 1 – 2 % of his body weight per day. Because horses burn calories to stay warm, fortified grain can be added to the diet to keep him at a body condition score of 5 on a scale of 1 (emaciated) to 9 (obese). If your horse is an easy keeper, will not be worked hard, or should not have grain for medical reasons, then a ration balancer or complete multi-vitamin/mineral supplement is a better choice than grain. Increasing the amount of hay fed is the best way to keep weight on horses during the winter, as the fermentation process generates internal heat.
Research performed at the University of Pennsylvania School of Veterinary Medicine showed that if during cold weather horses have only warm water available, they will drink a greater volume per day than if they have only icy cold water available. But if they have a choice between warm and icy water simultaneously, they drink almost exclusively from the icy and drink less volume than if they have only warm water available. The take home message is this: you can increase your horse's water consumption by only providing warm water. This can be accomplished either by using any number of bucket or tank heaters or by adding hot water twice daily with feeding. Another method to encourage your horse to drink more in winter (or any time of the year) is to topdress his feed with electrolytes.
Exercise
It may be tempting to give your horse some "down-time" during winter, but studies have found that muscular strength, cardiovascular fitness and overall flexibility significantly decrease even if daily turnout is provided. And as horses grow older, it takes longer and becomes more difficult each spring to return them to their previous level of work. Unfortunately, exercising your horse when it's cold and slippery or frozen can be challenging.
First, work with your farrier to determine if your horse has the best traction with no shoes, regular shoes, shoes with borium added, shoes with "snowball" pads, or some other arrangement. Do your best to lunge, ride or drive in outside areas that are not slippery. Indoor arenas can become quite dusty in winter so ask if a binding agent can be added to hold water and try to water (and drag) as frequently as the temperature will permit. Warm up and cool down with care. A good rule of thumb is to spend twice as much time at these aspects of the workout than you do when the weather is warm. And make sure your horse is cool and dry before turning him back outside or blanketing.
Blanketing
A frequently asked question is: does my horse need a blanket? In general, horses with an adequate hair coat, in good flesh and with access to shelter probably do not need blanketed. However, horses that have been clipped, recently transported to a cold climate, or are thin or sick may need the additional warmth and protection of outerwear.
Horses begin to grow their longer, thicker winter coats in July, shedding the shorter, thinner summer coats in October. The summer coat begins growing in January with March being prime shedding season. This cycle is based on day length—the winter coat is stimulated by decreasing daylight, the summer coat is stimulated by increasing daylight. Owners can inhibit a horse's coat primarily through providing artificial daylight in the fall but also by clothing their horse as the temperature begins to fall. If the horse's exercise routine in the winter causes him to sweat and the long hair hampers the drying and cooling down process, body clipping may be necessary. Blanketing is then a must.
Health
There are a number of health conditions that seem to be made worse by the winter environment. The risk of impaction colic may be decreased by stimulating your horse to drink more water either by providing warm water as the only source or feeding electrolytes. More time spent inside barns and stalls can exacerbate respiratory conditions like "heaves" (now called recurrent airway obstruction), GI conditions like ulcers, and musculoskeletal conditions like degenerative joint disease. Control these problems with appropriate management—such as increasing ventilation in the barn and increasing turnout time—and veterinary intervention in the form of medications and supplements.
Freeze/thaw cycles and muddy or wet conditions can lead to thrush in the hooves and "scratches," or, pastern dermatitis, on the legs. Your best protection against these diseases is keeping the horse in as clean and dry surroundings as possible, picking his feet frequently, and keeping the lower limbs trimmed of hair. Another common winter skin condition is "rain rot," caused by the organism Dermatophilus congolensis. Regular grooming and daily observation can usually prevent this problem, but consult your veterinarian if your horse's back and rump develop painful, crusty lumps that turn into scabs.
---
---
Winter Resources
---
Preparing your horse and barn for winter
Winter Nutrition Tips for Horses
Penn State: Winter Care for Your Horses
Cold Weather Barn Management Check List